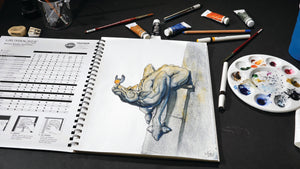 Collegiate Grade
Grumbacher Academy Watercolor
Academy watercolors are better than student grade paints yet are all AP Non-toxic and all tubes are a single price, unlike a true artist grade line like Finest. We consider Academy Watercolors to be a collegiate line of paint. Even professional artists the world over swear by these tiny tubes of pure magic. Colors are vibrant and highly pigmented and mix to glowing fantasy colors as well as realistic earthly hues. Academy Watercolor have an excellent lightfast rating for their pigment class. They have an amazing capacity for textural effects and smooth blends depending on how they are applied to the paper and the ratio of water used. Easily achieve both lacey edges and smooth gradients with these watercolors. Like all Academy paints, pigments are sourced and tested by our professional on-site lab to ensure that our Grumbacher quality standards are met. We are constantly looking for ways to improve our colors to offer modern pigmented paints at an affordable price. Made in the USA.
Grumbacher Academy Watercolor
★★★★★

These have been my go to watercolors for decades. I know there are more pigmented ones out there, but these are well suited to my more delicate approach to color. I have a few colors in other brands that I buy when I need them, but since they are far more expensive, the Academys serve most of my needs perfectly. Nice range of colors; finely ground, lightfast pigments.
★★★★★

This is my first time to use this product. It was recommended by the artist I was taking a watercolor class from. I have used liquid water color and another tube style watercolor but this one was so nice and creamy and easy to get my shading and values with. I was definitely impressed!
★★★★★

I have bought this product for 47 years. I love these paints. I began using these paints in college as recommended by my colllege professor. I've used them to paint my paintings, of which many have won awards. Currently I have them in my students' supplies as I now teach Watercolor myself.
★★★★★

I have taught Children (1st grade through High School) water color classes for over 25 years. I always use the Grumbacher student water colors when I can. It is my standard. If, for some reason, I have to get a substitute, the other inexpensive brands of paint are okay, but the Grumbacher seem to have the best color on paper as well as being inexpensive. We go through hundreds of tubes of paint in a year and I have never been disappointed with Grumbacher.
★★★★★

I purchased the 10-tube set, and will round it out by purchasing single tubes of, for example, orange, and a wider variety of greens. The paints are very strong, dilute well, and are re-wettable if stored on a palette with wells. I certainly would recommend them to someone getting started in watercolor.