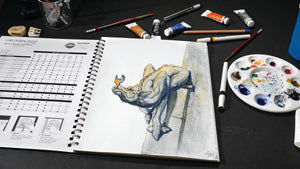 No other medium demands a contribution to an artist's work quite like watercolor. The paint has a say in what happens on the paper. The painter may think they'll create a realistic seascape, while the paint decides it's going to be a composition of emotion and immediacy. The paint plays with paper, water, brush strokes, and the artist's movements and intentions in ways that can be out of one's control. With watercolor, one has to expect the unexpected and learn to go with it.

Chartpak sells three brands of watercolors, with products making up grades for children, beginners, intermediate artists, and professionals. We're always researching more: more grades, more pigments, more binders - compressed pans, extruded pans, poured pans, DIY pans. You might ask why anyone would need that many watercolors. The answer is that they all do something a little different to meet the needs of the artist throughout their exploration of watercolor. You're sure to find a new favorite!
★★★★★

These have been my go to watercolors for decades. I know there are more pigmented ones out there, but these are well suited to my more delicate approach to color. I have a few colors in other brands that I buy when I need them, but since they are far more expensive, the Academys serve most of my needs perfectly. Nice range of colors; finely ground, lightfast pigments.
★★★★★

I am a watercolor artist and have used Grumbacher Finest Artists' Watercolors for all of my paintings. Some of my work is twenty years old and is still as vibrant as the day I painted it. A lot of my work hangs in commercial buildings and there is no loss of color to any of the paintings.
★★★★★

This was my beginning set and still my favorite for my watercolor journaling.
★★★★★

Add customer reviews and testimonials to showcase your store's happy customers.
★★★★★

Add customer reviews and testimonials to showcase your store's happy customers.