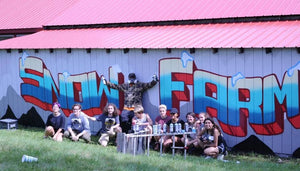 Engagement is at the core of Chartpak's value system. We believe everyone's voice matters in art, regardless of social or economic status, because a varied tapestry of visual expression creates a richer, more interesting, and inspiring world. 
Chartpak has created a robust set of programs that collaborate with artists through educational efforts in the form of lectures, workshops, classes, and professional trade shows, as well as online resources for social media and digital formats.
If you have a non-profit organization that would like to place a product donation request, please fill out the form here.  We review all requests on a case-by-case basis.
Educational Outreach Specialties
Artist Programs
• Art Ambassadors
• In-Store Artists
• Brand Featured Artists
• Brand Hall of Fame Artists
• Social Media Partners
Administration
• Staff that manages 2,000+ artists in the US and Canada
• Scheduling
• Event Coordination
• Feedback & Reporting System
Curriculum Development
• Lectures, Lesson Plans, & Educational Content Development
• Store & Collegiate Workshops
• Online Resources