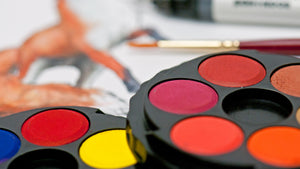 Children's, Beginner, and Intermediate Grades
Our watercolor pan range covers a range of grades from children to intermediate. Pelikan brand watercolors are excellent quality products for young artists, while the Grumbacher branded sets are great for beginners and intermediate artists. Koh-I-Noor's Color Wheel is an incredible set of intermediate grade watercolors that twist in and out of disks for easy travel. Explore our collection of quailty paints!
★★★★★

I am returning to traditional media from digital. I chose these pan sets as this is what I used BD (before digital) and I remembered how smooth, flowing, and responsive they were. My memory did not let me down. I wld buy again.
★★★★★

This paint set is a very good one. The colors are bright and clear, very transparent, and they go on the paper very smoothly. I am just beginning to explore the possibilities of watercolor and I am having a lot of fun with these...no frustration at all. When they dry, the color remains vivid, and the washes they produce are to die for.
★★★★★

This was my beginning set and still my favorite for my watercolor journaling.
★★★★★

The colors are very rich and show up well in both a wash and with denser application.
★★★★★

These paints work very well. The nice selection of colors are highly pigmented and last a long time. Each color can be popped out for easy cleaning of the surrounding areas. I would buy these again.