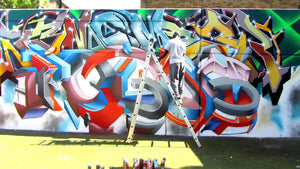 Belton is Molotow's Premium acrylic spray paint range. Belton cans come in a wide range of colors and are perfectly opaque, weatherproof, UV-resistant and lightfast. Because they are made with quadruple-ground car paint pigments, Belton colors are exceptionally permanent. German street artists who first used Belton cans in the 1990s have reported that their art has barely faded or weathered in two decades.

Belton spray paints can be used on any surface, in all weather (down to a minimum of 14°F/-10°C), and can be combined with acrylic paint and markers. They can dispense color quickly and are very fast-drying, which makes them perfect for artists on the move. They are designed for outdoor use and should only be used indoors if the space is exceptionally well-ventilated and the artist wears a respirator. Each Belton can has a Flowmaster spray valve which ensures an even pressure and application of the paint, while minimizing spray dust and dripping. Flowmaster caps have a low-pressure setting which is ideal for clear, even lines and detailed work, and a high-pressure setting perfect for covering large areas quickly. The caps are color-coded, so you always know which color you are using.
Sorry, there are no products in this collection.
★★★★★

I bought this in several solid colors and one transparent and they all work great, dry quickly and smoothly, and layer great!
★★★★★

If you are a street artist or painting on canvas this is the paint for you. Excellent coverage and control. My go to.
★★★★★

Molotow is the best spray paint for any occasion. One coat coverage, anti-drip formula, full function in all weather conditions, and has THE highest UV resistance of any paint available which is extremely important to ensure longevity, especially on outdoor murals. Try a can and see for yourself.
★★★★★

Purchased the Neon Pink... very vibrant, beautiful color! It has been holding up really well on my outdoor application... maintains its colorfastness. Would highly recommend!
★★★★★

"Model Making company". Have been in search for a paint that is very versatile. This spray paint passed many tests to qualify for the job. Good bye Testors, Tamiya, and Model Master. This is far more durable, faster drying, and much more paint for the money. Speckles perfect for architecture models, no dust, no drips, and no spits.